CHILDREN'S BOOK PROJECT MAKING A CONTRIBUTION TO EDUCATE CHILDREN IN WESTERN MONGOLIA
CONNECTING TO THE ISOLATED SCHOOLS OF WESTERN MONGOLIAN GOBI
Inspiring projects to give the chance to more children from the remote countryside to get access to knowledge and creativity through the act of reading. We engage ourselves in sending various and useful literature and books to the local schools in need.
Children's literature - Western Mongolia. The project goal is to bring up the creativity and critical thinking of the children in rural locations of Western Mongolia. This great initiative involves Gobi Mountain Lake, the Meditation club Smile Mongolia (NGO), and the local governors. Many children do not access books even in the local village, and with great pride, we are actively working on the next visits to donate the books.
This started back in 2019, and the program providing free books is already a success for its very first year. We want to create a world that is just, fair and would give the chance to those children to access better information and tools for their future. It will help them to develop their own creativity, an essential part of life. Therefore our role is to provide high-quality children's literature. Bringing the books to the West The Western rural village program started with the distribution of books purchased by Gobi Mountain Lake's travelers through their bookings, as well as many other books translated from the world literature into Mongolian by local writers.
Today, more than 500 books, including fairy tales from around the world, classic literature, science, Mongolian classic, and folk tales, were distributed to western gobi schools and libraries, making these books available for children to read. Reading empowers children Gobi Mountain Lake and Smile Mongolia NGO's experience shows that creative, respected, and analytical children will be empowered to contribute to a humanistic and responsible society as adults. These abilities can be promoted if children adopt reading habits in early childhood.

Adding value to the nomadic culture Improving reading habits for local children also encourages their feelings of love for their country and reinforces the value of the countryside lifestyle. Inspiring children to value the old traditions and embrace new ones will them a sense of place in Society and will enhance their respect for human rights, and it's a common custom. The main achievements of the program are already showing: - Local publishers engaged and were supported to introduce more world literature to publish.
Providing free books to under-resourced children in rural village schools of western Mongolia. 200 kids have new books thanks to this project.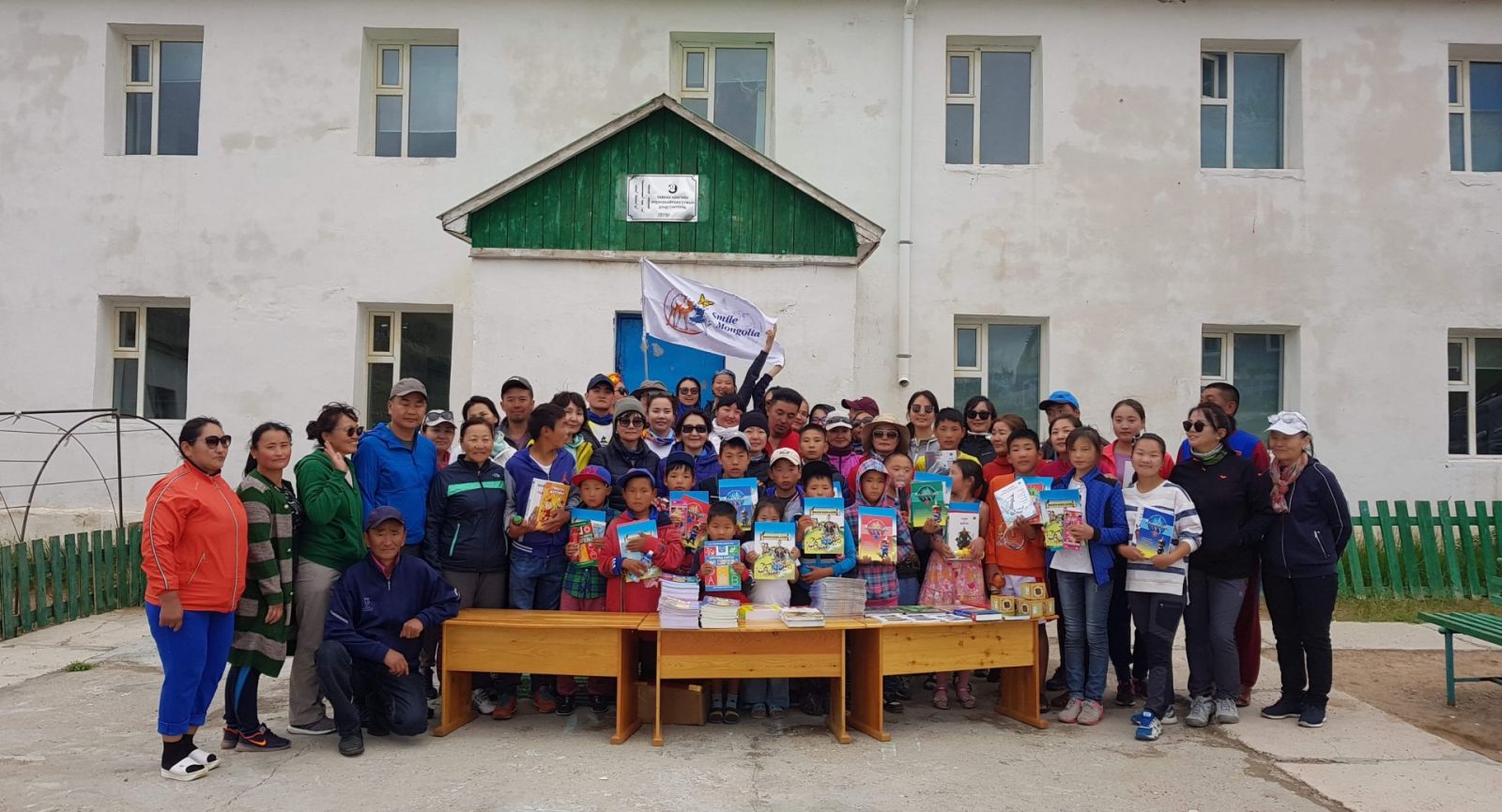 CHILDREN OF THE "URGAMAL" REMOTE VILLAGE OF ZAVKHAN PROVINCE
Gobi Mountain Lake LLC is proud to have contributed to have successfully raised funds through the various trips to the Great Sand Dunes in Western Mongolia in 2019, and therefore distributing important and needed goods to the local public schools of Erdenekhairkhan and Urgamal sums (local villages of the Zavkhan Province).
Those included various classic literature and academic books, fairy tales and storybooks for the children, and various useful items for the schools. It was our utmost pleasure to make the children happy and benefiting from such a project that covers a very real need in the Mongolian countryside.